Kim Kardashian has engaged the press with her special style. Every appearance of Kim sparks lots of comments to many fashion magazines and blogs. She loves fur coats and accesorries to different colors and designs and that was the reason she became the most hated person from PETA (People for the Ethical Treatment of Animals). But she not daunted. She loves wearing fur coats and she defended her right to wear them because it's her "choice". We have collected 15 of her fur style appearances and we listed them below.
Kim rocks with a long fur coat and a nude Yezzy bodysuit.
Kim with see througt shirt and long mink fur coat at Paris Fashion Week Fall 2015.
Fur short coat combined with black frock featured a beaded bodice went over the crowd.
Kim's fashionable long mink coat with graffiti rulled Los Angeles streets.
Over the knee boots and mink fur coat. Nailed it.
Kim wearing snakeskin boot, white long overall and luxurious rabbit fur coat.
Kim with her daughter North during the fashion week 2016.
Kim's ongoing fur look on Paris Fashion Week 2017. Feather jacket and white fox fur stole.
Kim's total black night out fur style in New York.
We loved this nude fur look after one of her trips in Dubai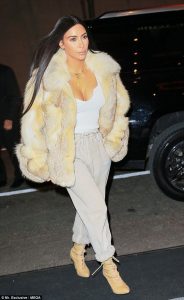 Kim Kardashian puts everything on display in a sheer top her black and white fur coat.
Spotted out in New York City wearing sweatpants under a striped fur coat.
With her fluffy fur coat on her birthday in 2011.
Kim Kardashian keeps warm in her fur vest in the cold New York City.
Kim with her statement red fur coat, leaving 'Hamilton' in NYC.